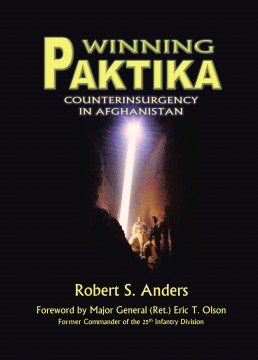 Winning Paktika
Winning Paktika is the story of the Wolfhounds in 2nd Platoon, Bravo Company through the eyes of a young platoon leader. He details their adventures on the frontier in a little-known dangerous place called Paktika Province, centrally located along Afghanistan's volatile border with Pakistan. It is the story of ordinary men, cast into a treacherous and unfamiliar world with the mission to destroy the enemy's sanctuary, not just the enemy.
This is a story of triumph and failure, elation and frustration through a hard-fought struggle with their identity as infantrymen, evolving from trained tactical killers to strategic nation builders in their quest to win Paktika.
In the early years of Operation Enduring Freedom, ahead of the first democratic elections in the history of Afghanistan, there was a band of brothers who believed they could win the war without killing people. Winning Paktika is that story. Inspiring!
 

Rob Anders captures the complexities of counterinsurgency in a way that both educates and entertains, bringing to life the grand challenges and the nuanced trials of young men cast out to the frontier on a dangerously ambiguous battlefield. I am heartened to know that Winning Paktika will be here to show future generations what the best young leaders were doing on the ground in the fight against terrorism, long before modern counterinsurgency became doctrine. If you want to know what it was like to serve as an infantry platoon leader in combat after 9/11, you must read this book.
An intimate look into the world of a 'strategic lieutenant' as he navigates the complexities of a distinctly non-kinetic fight. Deeply personal, this story brings the reader right to Afghanistan's Paktika Province and offers a unique lens into this generation's wartime experience.
In the end, what Rob Anders has given us is a work that masterfully weaves all of these themes together. Though it may be impossible to fully understand the stark, personal experiences of the men of the Wolfhound Battalion, this story affords the reader an inside personal glimpse of the type of war they were asked to fight, the strange and unyielding land where their battles occurred, the extent to which the Afghan people were crucial to the outcomes, the unique circumstances occasioned by high-level policy decisions, and how strategic and tactical choices directly affected the soldiers on the ground. Ultimately, what the reader takes away from Winning Paktika is the story of ordinary men, asked to do extraordinary things.